40 Interesting & Unknown Cranberry Facts
There is absolutely no doubt that cranberries are a magical fruit. It is packed with antioxidants, fiber, health-supportive and medicinal properties. Ready to learn more about this powerful superfruit and why it's unique, what are the health benefits and how it can impact your health? Here are the 40 interesting Cranberry Facts you need to know.
1. The name, Cranberry, derives from the German, kraanbere (English translation, craneberry), first named as cranberry in English by the missionary John Eliot in 1647.
2. November 22 is National Cranberry Relish Day.
3. Americans consume 400 million pounds of Cranberries each year.
4. The Cranberry was made the official state berry of Massachusetts in 1994.
5. The Cranberry is one of three fruits native to North America.
6. Cranberry juice contains a chemical that blocks pathogens that cause tooth decay.
7. 90% of all Cranberries are wet harvested.
8. As of 2016, the European Union was the largest importer of American cranberries.
9. The 5 states known for growing Cranberries are Massachusetts, Wisconsin, New Jersey, Oregon, and Washington.
10. Cranberries have small pockets where air seeps into that allows them to float.
11. Cranberries do not grow in water.
12. Cranberries have approximately 90% water.
13. Cranberries are typically in season from October until December.
14. Cranberries can be used as fabric dyes.
15. Cranberries have many health benefits such as preventing urinary tract infections, helping slow down tumor progression and aiding in reducing the risk of cardiovascular diseases.
16. Only about 5% of Cranberries are sold fresh while the rest are turned into Cranberry juice or sauce.
17. Cranberries are a major commercial crop in the U.S.
18. Cranberries have slender, wiry stems that are not thickly woody and have small evergreen leaves.
19. Cranberry Marketing Committee was established in 1962  to ensure a stable, orderly supply of a good quality product.
20. Cranberry sauce is a traditional supplement to turkey at Christmas dinner in the United Kingdom.
21. Cranberries are also used in baking.
22. Dennis, Massachusetts was the site of the first recorded Cranberry cultivation in 1816.
23. American recipes containing Cranberries date from the early 18th Century.
24. During World War II, American troops required about one million pounds of dehydrated Cranberries a year.
25. It takes one ton or more of Cranberry vines per acre to plant a bog.
26. Depending on the weather, cranberry blossoms last 10 to 12 days.
27. Latest medical studies indicate that antioxidants found in Cranberries can prevent the development of Alzheimer's disease.
28. The Cranberry was designated as the Official Fruit of Wisconsin in 2004.
29. Cranberry juice was first made by American settlers in 1683.
30. The first Cranberry sauce was marketed in 1912.
31. More than 94% of Thanksgiving dinners include Cranberry sauce.
32. Wisconsin has been the number one Cranberry producer in the U.S. for 19 consecutive years, producing more than 60% of the nation's crop.
33. The oldest Cranberry bed in Wisconsin is 139 years old (2013).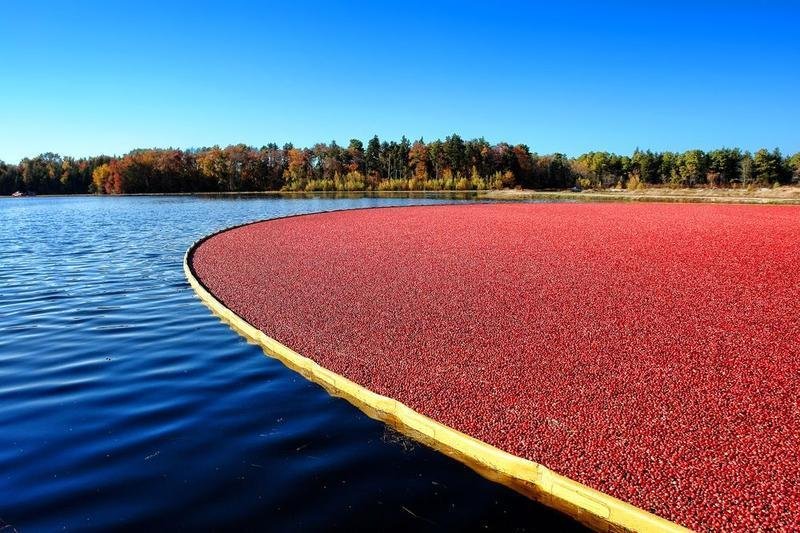 34. Historically, they have been used by Native Americans as a treatment for bladder and kidney diseases.
35. Cranberries are low in sodium, contain almost zero fat and do not contain any cholesterol.
36. American Revolutionary War veteran Henry Hall first cultivated Cranberries in the Cape Cod town of Dennis around 1816.
37. In 1703, Cranberries were served at the Harvard University commencement dinner.
38. In 1843, Eli Howes planted his own crop of Cranberries on Cape Cod, using the "Howes" variety.
39. In 1847, Cyrus Cahoon planted a crop of "Early Black" variety near Pleasant Lake, Harwich, Massachusetts.
40. In 2016, world production of Cranberry was 683,671 tonnes, mainly by the United States.