40 Interesting Firefighters Facts
Firefighters are real-life heroes who put themselves at risk to save other people's lives everyday. Learn interesting Firefighters Facts that we bet you didn't know, along a little bit of history of firefighting.
1. In Germany, even the smallest villages have a volunteer fire department known as Freiwillige Feuerwehr.
2. Benjamin Franklin is responsible for the first fire company in Philadelphia and these firefighters were known as Benjamin Franklin's Bucket Brigade.
3. A firefighter needs around 100 hours of training.
4. Firefighters have to get dressed in less than two minutes as per the norms.
5. From 1603 until 1867, Japanese firefighters fought fires in a "different" kind of way.
They wet themselves so they would be less flammable.
6. There are over 1.1 million firefighters in the United States.
7. According to the National Fire Protection Association, only 7% are women firefighters.
8. As of 2010, the median wage for firefighters was $45,250 a year.
9. Firefighters are on duty for about 50 hours each week according to the BLS.
10. Molly Williams was the first recorded woman to serve as a firefighter.
11. In the United States, helmet colors often denote a fire fighter's rank or position.
12. The most likely thing to kill a firefighter is heart attacks.
13. The first official fire department was founded in Boston, MA in 1678.
14. Dalmatians are known as firehouse dogs.
15. 75% of all firemen are actually volunteers.
16. There are different kind of fire extinguishers designed for different purposes.
17. Chile is the only country in the world where all firefighters are volunteers.
18. There is a special type of firefighter called a "smoke jumper", they are meant for forest fires.
19. Approximately 100 firefighters per year are arrested for starting fires.
20. Firefighters may also be required to have paramedic certifications.
21. The minimum age to be a firefighter is at least 18 years.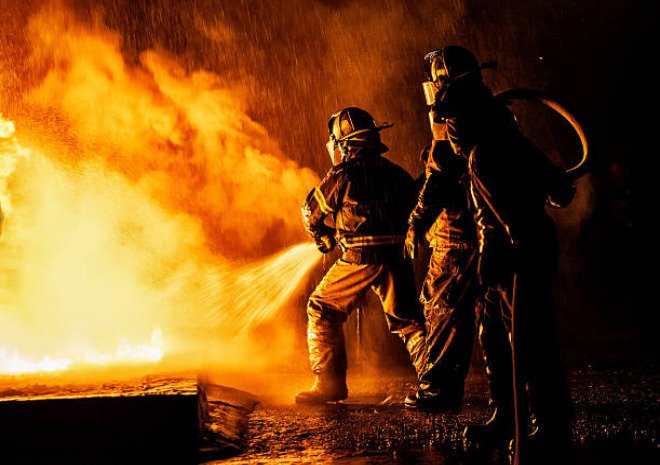 22. In 2008, according to the National Fire Protection Association, there were more than 25 million calls for fire department services.
23. Tanker trucks and pumper trucks are both about 30 feet long.
24. A fire department responds to a fire every 33 seconds across the U.S.
25. In 2015, there were 68,085 firefighters injured in the line of duty.
26. There are 174,000 highway vehicle fires annually.
27. The first fire station was found in Rome.
28. Bunker gear are the heavy clothes that the firefighters wear.
29. Hoses and axes are the types of equipment used by the firefighters to make the heat and smoke out.
30. The first Roman fire brigade was created by Marcus Licinius Crassus.
31. Women in Australia first entered firefighting in 1970.
32. 9% of firefighters were women in France in 2015.
33. Volunteer female firefighters worked in Breslau and Berlin during the World War.
34. Tunisian firefighter's ranks are actually the same as the army, police and national garde.
35. The Hong Kong Fire Services Department started recruiting firefighter women in 1980.
36. In Germany, even the smallest villages are required to have a volunteer fire department, called the "Freiwillige Feuerwehr", by law.
37. As of 2003, the Tokyo Fire Department is the second biggest fire department in the world.
38. In 2015, the Tokyo Fire Department had 18,700 active firefighters.
39. Motion alarms called Personal Alerting
Safety System (PASS) are attached to the firefighter and sounds an alarm if the firefighter stops moving for more than 30 seconds.
40. A firefighter has to go through regular medical exams in other to make sure he is always fit to face the work ahead.